Hardhat Hackathon Boilerplate Project
If you want to get started with your dApp quickly or see what this whole project looks like with a frontend, you can use our hackathon boilerplate repo.
https://github.com/nomiclabs/hardhat-hackathon-boilerplate (opens new window)
What's included
The Solidity contract we used in this tutorial
A test suite using ethers.js and Waffle
A minimal front-end to interact with the contract using ethers.js
Solidity contract & tests
In the root of the repo you'll find the Hardhat project we put together through this tutorial with the Token contract. To refresh your memory on what it implements:
There is a fixed total supply of tokens that can't be changed.
The entire supply is assigned to the address that deploys the contract.
Anyone can receive tokens.
Anyone with at least one token can transfer tokens.
The token is non-divisible. You can transfer 1, 2, 3 or 37 tokens but not 2.5.
Frontend app
In frontend/ you'll find a simple app that allows the user to do two things:
Check the connected wallet's balance
Send tokens to an address
It's a separate npm project and it was created using create-react-app, so this means that it uses webpack and babel.
Frontend file architecture
src/ contains all the code

src/components contains the react components

Dapp.js is the only file with business logic. This is where you'd replace the code with your own if you were to use this as boilerplate
Every other component just renders HTML, no logic.
src/contracts has the ABI and address of the contract and these are automatically generated by the deployment script
How to use it
First clone the repository, and then to get the contracts deployed:
Here we just install the npm project's dependencies, and by running npx hardhat node we spin up an instance of Hardhat Network that you can connect to using MetaMask. In a different terminal in the same directory, run:
This will deploy the contract to Hardhat Network. After this completes run:
To start the react web app. Open http://localhost:3000/ (opens new window) in your browser and you should see this:

Set your network in MetaMask to localhost:8545. You might also need to configure MetaMask to work well with Hardhat. To do that, go to Settings -> Networks -> Localhost 8545 and change the Chain ID input to 31337.
Now click the button in the web app. You should then see this:

What's happening here is that the frontend code to show the current wallet's balance is detecting that the balance is 0, so you wouldn't be able to try the transfer functionality. By running:
You'll run a custom Hardhat task we included that uses the balance of the deploying account to send 100 MBT and 1 ETH to your address. This will allow you to send tokens to another address.
You can check out the code for the task in /tasks/faucet.js (opens new window), which is required from hardhat.config.js.
In the terminal where you ran npx hardhat node you should also see:
Showing the console.log output from the transfer() function in our contract, and this is what the web app will look like after you run the faucet task: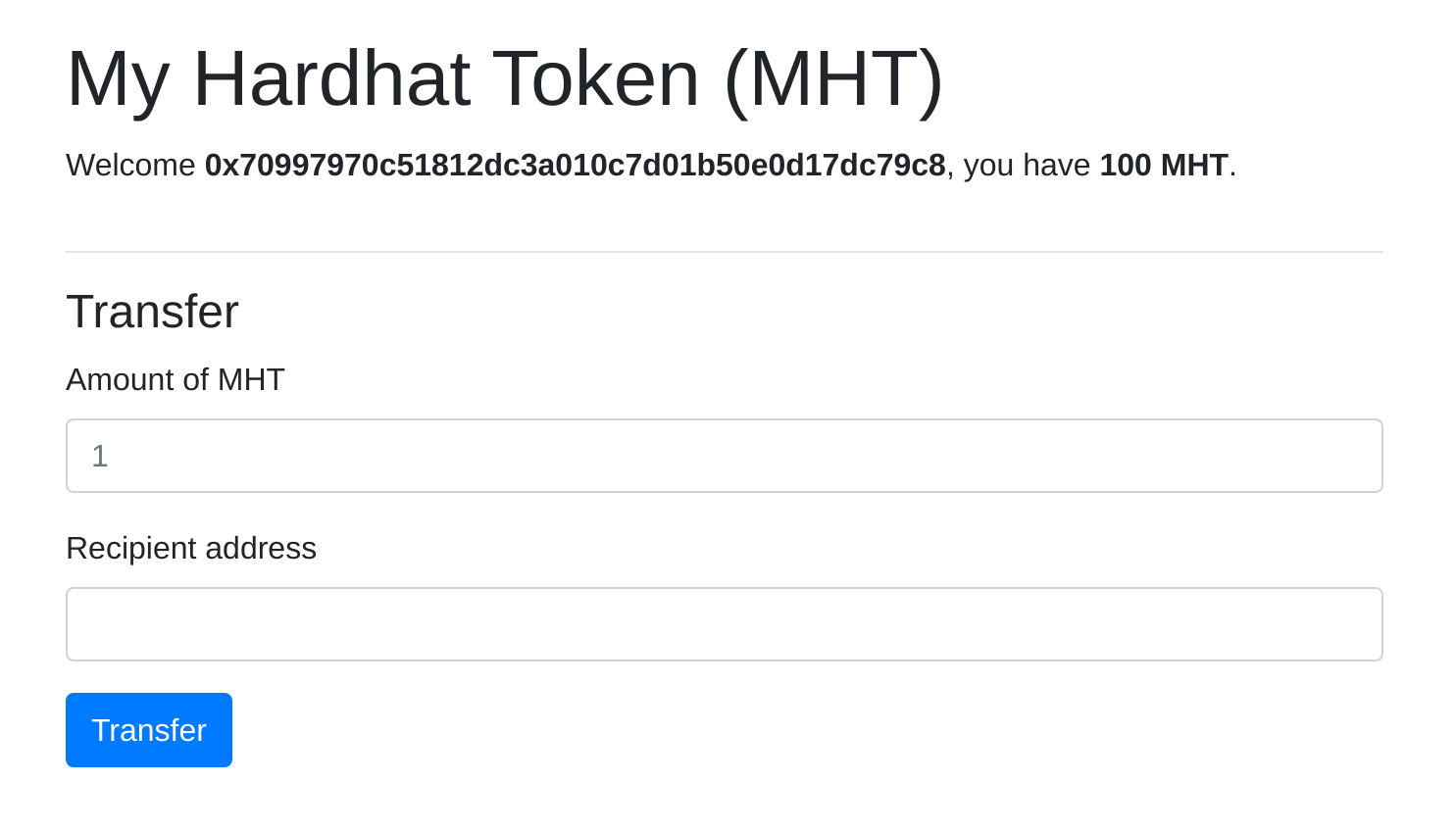 Try playing around with it and reading the code. It's full of comments explaining what's going on and clearly indicating what code is Ethereum boilerplate and what's actually dApp logic. This should make the repository easy to reuse for your project.